Star Wars: Legion - Shadow Collective Starter Set
( EAN-13: 841333116408 )
do listy produktów »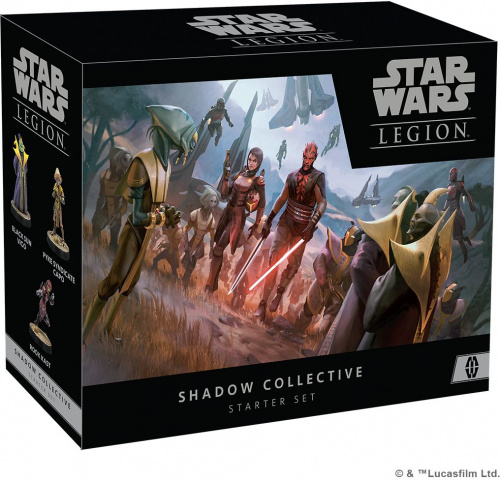 23% VAT
841333116408
SWL90
0,50 kg
Zawartość:
22 plastikowe figurki
36 kart
45 żetonów i znaczników
instrukcja
Dodatkowe informacje:
Wydawca:

Atomic Mass Games

Wydanie:

angielskie
Oportunistyczni najemnicy
The galaxy's seedy underbelly comes with the Star Wars Legion: Shadow Collective Starter Set! This set introduces mercenaries to the game, inviting players to hire units from the notorious Black Sun and Pyke syndicates to join other faction's armies. Alternatively, Maul himself can unite these disparate criminals under the banner of the Shadow Collective and lead them as a standalone force. Alongside his Mandalorian Super Commandos, they form a threat that could bring the galaxy to its knees.
Whichever path they choose, this set gives players plenty of new options for building their armies with 22 miniatures, including Maul, a unit of Shadow Collective Mandalorian Super Commandos, a unit of Black Sun Enforcers, and a unit of Pyke Syndicate Foot Soldiers. Additionally, players can further customize these forces with 30 upgrade cards that unlock heavy weapons, characters like Rook Kast, and more. Finally, this set also includes three command cards for use with the new mercenaries, three new command cards for Maul, and reprints of Maul's three Separatist Alliance command cards.
Star Wars Legion: Shadow Collective Starter Set includes:
9 Command Cards

1 Ploy
1 Aggression
1 Discretion
1 Witch Magick
1 His Eminence
1 Seize What Power We Can
1 Duel of the Fates
1 The Phantom Menace
1 At Last

6 Unit Cards

1 Maul
1 Mandalorian Super Commandos
1 Black Sun Enforcers
1 Black Sun Vigo
1 Pyke Syndicate Foot Soldier
1 Pyke Syndicate Capo

30 Upgrade Cards

1 Black Sun Enforcer
1 Black Sun Vigo
1 Mag-Det Enforcer
1 Scatter Gun Enforcer
1 Pyke Syndicate Foot Soldier
1 Pyke Syndicate Capo
1 Electro-Whip Soldier
1 P13-M Distruptor Soldier
1 Super Commando Gunslinger
1 Super Commando Marksman
1 Mandalorian Super Commando
1 Super Commando Jetpack Rockets
1 Super Commando Combat Shields
1 Rook Kast
1 The Darksaber
1 Anger
1 Fear
1 Force Choke
1 Saber Throw
1 Force Push
1 Improvised Orders
1 Tenacity
1 Hunter
1 HQ Uplink
2 Recon Intel
2 Targeting Scopes
2 Fragmentation Grenades
pokaż pełny opis...
ukryj pełny opis...